Clothes Dryer and Rangehood Ventilation Specialists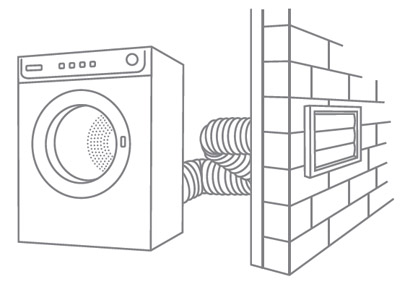 Pacific Air is a leading national supplier of ventilation products. We supply kits and accessories for clothes dryer ventilation, range hood ventilation, gas flues and general ventilation. Choose either a Pacific Air kit or purchase the components individually to make up your own solution. We are the specialists in this area - and carry innovative new products ensure that your ventilation solution will be effective, easy to install and also contemporary looking.
Rangehood venting kits by Pacific Air are in 125mm or 150mm sizes – and can be installed via the roof, wall or eave. External ventilation of range hoods is required under AS 1668.1. Kits are designed to be easy to install – and have all components (including roof flashing for steel or tiled roofs) required for most flueing installations.
Clothes dryer ventilation is not compulsory but has many benefits including: energy saving, cleaner, safer, protects the home from mold, removes potentially flammable lint and fluff. And the new DIY kits make installation a breeze.
We also carry a large range of flexible and semi rigid aluminium ducting - as well as a wide range of plastic and aluminium vents and accessories. Check out the new White Silicone Appliance Mat to put in between your front loading washing machine and dryer.
Where to Buy
The full range of Pacific Air clothes dryer kits is available at Bunnings and The Good Guys. Bunnings also carries the rangehood products range. Alternately Pacific Air sells online and distribute all over Australia, including Melbourne, Canberra, Sydney, Newcastle, Wollongong, Hobart, Gold Coast, Perth, Adelaide, Brisbane, Geelong - all over Australia. We can even distribute internationally if required. Cost of delivery is just $17.50 (inc gst) per order.
Floor Ventilation
If you are looking for floor vents, covers and floor registers, check out Accord Ventilation for a full range that can be purchased online.
News & Updates
Pacific Air has launched a new range of rangehood venting kits and accessories. These are also called rangehood flue kits. Venting your rangehood is compulsory under Australian legislation in Australian Standard AS4386.2. It removes odour and smoke from your kitchen. Flueing keeps greasy smoke from damaging the walls. It is also safer to duct the smoke out of the house or apartment.
We have kits for wall, eave or roof ventilation. Kits are either 125mm or 150mm diameter - check your specific rangehood. If you are venting through the roof, ensure that you select a kit with the correct type of roof flashing for your roof. All Pacific Air kits include the basic components for most installations.
Benefits of Clothes Dryer Venting
Pacific Air leads the clothes dryer ventilation market with innovative dryer venting products. Select either the DIY Dryer Venting Kit or the Heavy Duty Dryer Venting Kit - depending if you want to vent out the window or out the wall. You may also want the Dryer Vent Flat Adapter, which is compatible with both kits. Venting of your clothes dryer has a number of benefits. It reduces drying times - so you save electricity - and money. Ventilation of the dryer protects your home from mold. Venting is safer - as lint fibres can be flammable. It is easier than having to open doors and windows whenever you run the dryer. Venting is cleaner - as lint and fluff fibres are removed. Finally dryer venting reduces cooling costs in summer by not over-heating the house.
Benefits of Rangehood Venting
Rangehood venting has a number of benefits also. Aside from being compulsory under AS1668.1, it removes hot air and smoke so the kitchen air is cleaner and safer. Cooking odours can build up quickly without external ventilation. This can deposit a layer of oil and grease on surfaces, walls and the roof. It can be a fire hazard not to vent your rangehood properly - so make sure you consult with specialists.
Keep an eye out here for the latest Pacific Air news and updates.
Pacific Air
clothes dryer venting kits, range hood venting kits, flue kits, vents, duct, flashing, aluminium semi rigid duct, ducting kits, pacific air